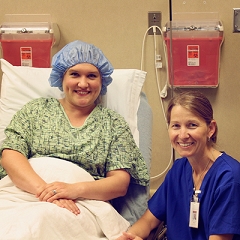 Caring, Convenient, Cost-effective, State-of-the-Art.
You will find the Wausau Surgery Center is this and more.
• The Wausau Surgery Center was created for the convenience of the patient for quick in and out service. No long waits. The experienced staff at Wausau Surgery Center provides reassurance, personal attention, and top quality care to all patients and families!
• The benefits of an ambulatory surgery center are a reduced cost per case which is beneficial to the insurance companies who will contract with the facility and for self pay patients.
• The design and goals of the facility compliment the physicians's schedule. This is where the staff makes a difference to aid the facility in being successful. We accomplish this by starting and completing cases on time, having a quick turn over time between cases (ideally ten minutes) and our state of the art equipment.
Quality, Safety, Commitment and Satisfaction are our goals!
OUR MISSION
To care for our patients, serve our physicians and improve healthcare in America.
OUR VALUES
Clinical Quality

We are committed to outstanding patient care and clinical outcomes.

Integrity

We do what is right, no matter how difficult, without exception. We say what we mean, and we do what we say.

Service Excellence

We seek to exceed the expectations of patients, physicians and each other in everything we do.

Teamwork

We work together, helping and supporting one another to make our Centers, Departments and all of SCA successful.

Accountability

We take complete, personal responsibility for our actions and commitments.

Continuous Improvement

We seek to relentlessly improve our performance in every area – clinical, operational, and financial – constantly pushing ourselves to new heights.