Why Choose to have Your Surgery in an Ambulatory Surgery Center (ASC)?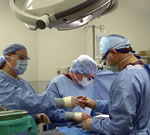 ASC's are able to provide high quality surgery at a lower cost than hospitals. According to Medicare data, patients who have their surgery in an ASC pay an average of 41% less than patients having the same surgery in a hospital. This savings results in less out of pocket expense to our patients. This can make a necessary or elective surgery much more affordable during these difficult economic times.
Meet our Medical Director

Dr. John Butler is proud to welcome you to the Wausau Surgery Center. He has served as our Medical Director for the past 3 years and has practiced at the surgery center since it opened in 1994. He finds the surgery center an important part of his practice for the types of procedures he performs. He is a Board Certified plastic and reconstructive surgeon who is particularly interested in surgery of the tummy, breast reconstruction, breast reduction, breast lifts and augmentation. He is a Fellow of the American College of Surgeons and as one works with the entire team of the surgery center to adhere to the highest quality standards in all of our services.